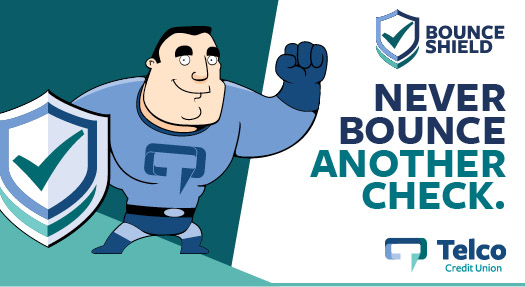 We know that times are tough. Telco Credit Union has a product that can help. We now offer BounceShield overdraft Services.
BounceShield is meant to step in and pay NSF transactions on your checking account. BounceShield covers your overdrawn checking account up to $600.00 for checks and ACH (electronic) debits. Once the $600.00 ceiling is reached, no further protection will be provided until a payment is made on your account. At no time can your account go below a negative $600.00 balance. Upon using BounceShield your account must be brought to a positive within 30 days following use, or BounceShield privileges will be withdrawn, pending overdraft payment.
When you add BounceShield to your checking account, your overdraft coverage is extended to include ATM and everyday debit card transactions.
There is no cost to enroll in BounceShield.
With BounceShield, you will be charged a fee of $30 each time Telco pays an overdraft on your behalf. There is no limit on the total fees Telco can charge for overdrawing your account.
If you choose not to opt-in to BounceShield, overdrafts resulting from ATM and everyday debit card transactions will be declined. We pay overdrafts at our discretion, which means we do not guarantee that we will always authorize and pay any type of transaction.
Opt-in to BounceShield now and get peace of mind about your ability to care for the unexpected!